A Land Remem­bered has been very pop­u­lar in schools for many years. Kids of all ages love this book and we often get emails and let­ters from par­ents and teach­ers say­ing that this book was what got their chil­dren and stu­dents read­ing and enjoy­ing it for the first time. (We've also had this com­ment from adults).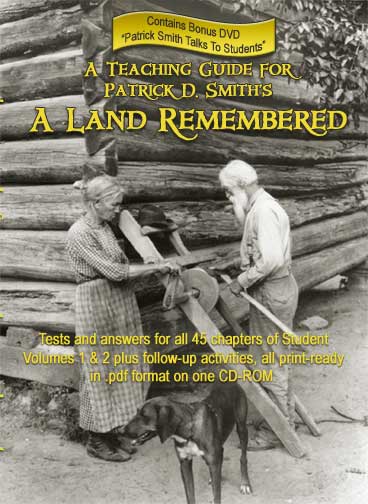 We have often been asked for class­room teach­ing resources to accom­pany the book. We are pleased to announce this  teach­ing guide, pro­duced by Boca Raton 4th grade teacher Pam Lanzi. Pam has been teach­ing for 25 years and has used A Land Remem­bered in her class­room for years.
This teach­ing guide will be con­ve­nient for teach­ers and home school­ers because it con­tains study guides and tests with answers, ready to print in both Adobe Acro­bat pdf and Microsoft Word for­mats, for all 45 chap­ters in the stu­dent ver­sions of A Land Remem­bered. It also has follow-up activ­i­ties. Because you can add, delete and change the con­tents your­self, this guide is eas­ily adapt­able for grades 4 through 8.
Click here to view a sam­ple. Get the study guide and answers for chap­ters 4–6.
You get Adobe Acro­bat pdf files and Microsoft Word files con­tain­ing the study guides and tests for all 45 chap­ters, plus three follow-up activ­i­ties. These are ready to print and use as is or alter to meet your own needs.
BONUS FREE DVD AVAILABLE
You can pur­chase and down­load the teach­ing guide imme­di­ately, or order it deliv­ered on a CD-ROM with a BONUS DVD. This DVD is of author Patrick Smith speak­ing to stu­dents, answer­ing com­mon ques­tions about him­self and about A Land Remem­bered. This DVD is sold sep­a­rately for $10.00, but is included free when you pur­chase the teach­ing guide on CD-Rom. Both are con­ve­niently pack­aged in a stan­dard DVD case for safe storage.
Two Ways To Order
Pur­chase and down­load imme­di­ately for $15.00 here:
Teach­ing Guide Only (No DVD) Imme­di­ate Down­load
You will receive an email with a link to down­load a .zip file.
Order the CD and get the bonus DVD for $20 here:

Teach­ing Guide On CD-Rom With Bonus DVD