A Land Remembered has been very popular in schools for many years. Kids of all ages love this book and we often get emails and letters from parents and teachers saying that this book was what got their children and students reading and enjoying it for the first time. (We've also had this comment from adults).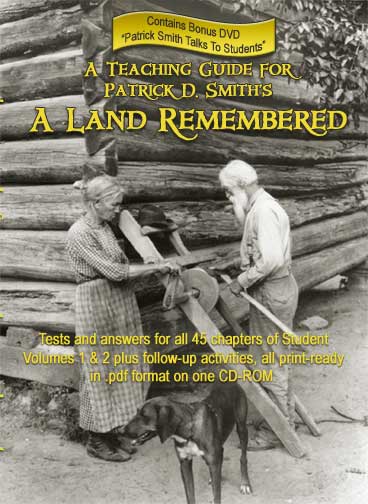 We have often been asked for classroom teaching resources to accompany the book. We are pleased to announce this  teaching guide, produced by Boca Raton 4th grade teacher Pam Lanzi. Pam has been teaching for 25 years and has used A Land Remembered in her classroom for years.
This teaching guide will be convenient for teachers and home schoolers because it contains study guides and tests with answers, ready to print in both Adobe Acrobat pdf and Microsoft Word formats, for all 45 chapters in the student versions of A Land Remembered. It also has follow-up activities. Because you can add, delete and change the contents yourself, this guide is easily adaptable for grades 4 through 8.
Click here to view a sample. Get the study guide and answers for chapters 4-6.
You get Adobe Acrobat pdf files and Microsoft Word files containing the study guides and tests for all 45 chapters, plus three follow-up activities. These are ready to print and use as is or alter to meet your own needs.
BONUS FREE DVD AVAILABLE
You can purchase and download the teaching guide immediately, or order it delivered on a CD-ROM with a BONUS DVD. This DVD is of author Patrick Smith speaking to students, answering common questions about himself and about A Land Remembered. This DVD is sold separately for $10.00, but is included free when you purchase the teaching guide on CD-Rom. Both are conveniently packaged in a standard DVD case for safe storage.
Two Ways To Order
Purchase and download immediately for $15.00 here:
Teaching Guide Only (No DVD) Immediate Download
You will receive an email with a link to download a .zip file.
Order the CD and get the bonus DVD for $20 here:

Teaching Guide On CD-Rom With Bonus DVD