A Land Remembered Teaching Guide
Digital, Flexible Files For Your Specific Needs
This is the ultimate, most flexible teaching guide for A Land Remembered because it is so comprehensive.
You get study guides with tests on all chapters of the student volumes of A Land Remembered. They are all in pdf and Word format and are ready for you to print out and use right away or alter to meet your needs. That is the great advantage of this teaching guide over pre-printed guides. Includes additional activities.
Order the CD-ROM and get a free DVD of Patrick Smith answering common student questions about A Land Remembered (normally a $10 item – it is included with the CD-Rom). Most student questions fall into the same general pattern, so Mr. Smith recorded his typical answers on a video, which is included free with this teaching guide. For grades 4 – 8.
Click here to get a FREE STUDY GUIDE for Chapters 4-6 as a sample.
Teaching Guide On CD w/Free DVD– $20 –
Also available as an immediate download. You get a zipped file that expands into the Word and .pdf files. You do not get the free DVD with this version.
Immediate Downloadable Teaching Guide (no bonus DVD) – $15 –
Printed Teaching Guides, Written By Teachers For Teachers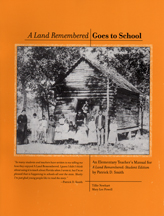 You'll take a lot of the work out of preparing lesson plans, pre-and post tests with these handy printed teacher's guides to A Land Remembered. At just $6.00 each, it's a no-brainer!
Elementary Teaching Guide – A Land Remembered Goes to School
Vocabulary words, chapter summaries, vocabulary activities, list of slang and translations, multiple choice questions, comprehension questions, activities and more.
64 pages, softbound.
Elementary Teaching Guide – $6.00 –
Middle School Teacher Plans and Resources or A Land Remembered Student Edition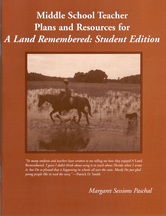 Extensive vocabulary/slang, pre-reading activities, comprehension questions, post-reading activities for each individual chapter, and more. Includes a description of how A Land Remembered fulfills many benchmarks of the Sunshine State Standards for Social Studies and some for Science for the middle grades. Includes a list of resources. 64 pages, softbound
Middle School Teaching Guide – $7.00 –