By
Rick Smith
on Tuesday, February 8th, 2011 |
Comments Off

on Videos About Florida and Its History

Patrick Smith's Florida, A Sense of Place (Award-Winning DVD)
Anyone – student, teacher, or just a fan of A Land Remembered – will love seeing this DVD. You'll spend an hour with Patrick D. Smith, as he takes you on a nostalgic journey to a Florida that exists today only in books. If you are using A Land Remembered in your classroom or in a homeschool situation, you simply must show this DVD to your students.
Thank you, too, for the delicious DVD…A Sense of Place. We laugh every time we listen to you explaining how you would pack up your suitcase and try to head down south to research the Indian traditions. We feel like we were on those trips with you.   ~ Susan Clark & Scott Taylor
You'll get to know both the author and the state of Florida better as this soft spoken gentleman introduces you to the Florida of his youth. You'll be touched by the true stories of his adventures along the way to writing his books, many of which are now modern-day classics.
Many people have said that anyone living in or visiting the state of Florida should see this DVD. You'll learn that Florida is far more than a tourist destination.
Patrick Smith's son, Rick (Patrick, Jr.) an award-winning filmmaker living in California, shot and edited this loving tribute to his father, with help from his wife, Kim, herself a professional editor and producer.
Patrick Smith personally narrates this multiple award-winning program as video, historical photos and re-enacted scenes bring his stories to life. A short sample is shown in the video to the left.
Patrick Smith's Florida, A Sense of Place is 54 minutes long and includes fascinating stories of Patrick Smith's life and adventures; experiences that he had to have in order to write his books the way he did. It provides great insight not only into Florida's past, but into the mind of one of her favorite writers.
Standard Version – $19.95 –
Public Performance Version – $95 –
The Public Performance Rights (PPR) version satisfies US Copyright standards for showing to public audiences, as a reward in schools (like a rainy day, but not required for normal classroom use if it is in the curriculum), or when charging admission. This the same thing you'd do for any commercial film use. This version includes a free copy of the "Patrick Smith Answers Students' Questions" DVD.
The PPR version is included for FREE with all book orders for 31 or more books, no matter whether you choose hardbound or softbound, student version or regular version.
Patrick Smith Answers Common Questions About A Land Remembered (DVD)

Many students have questions about the book or Patrick Smith the author. He cannot personally answer all of the letters he gets, so he recorded this DVD in which he answers most common questions. This DVD is included as a free bonus when you purchase the digital guide ($20) listed above.
NOTE: This item is included free with any order of $15 or more!
DVD – $12.95 
Butch Harrison, Florida Cracker Storyteller (DVD)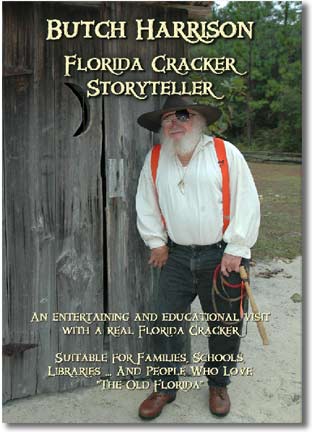 This DVD contains 58-minutes of stories in three chapters. The first section, filmed at a Florida pioneer homestead at Florida Capital State Park in Perry, Florida, provides a rich introduction to early settler life. An authentic settler house and outbuildings provide the perfect background as Butch demonstrates how and why settlers built the typical "Cracker House," what they ate and how they lived. This is as close as you'll come to taking your students on a real field trip to a Florida pioneer settlement.
They'll learn about the economy of trading skins and furs instead of money, which was quite common during this time. You'll also get a tour of a sugar cane mill.
In the second section, Butch entertains you with true tales of his life as a guide and gladesman in the Florida Everglades. These are colorful stories of frogs, fish and alligators in the world that was Butch's playground, a world that is increasingly threatened today.
This is a unique program that is sure to be a hit with students of all ages.
Florida Cracker Storyteller DVD – $19.95
Shown below is a short sample of from the DVD, Florida Cracker Storyteller DVD.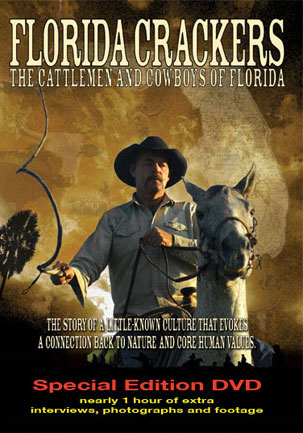 Florida Crackers: the Cattlemen and Cowboys of Florida
Occasionally, someone comes along to keep the torch of our pioneering ancestors burning. My father did it when he wrote A Land Remembered.
Some friends of mine have accomplished a similar feat with their skills in filmmaking. I'm happy to announce the release of a new movie made with an equal amount of love and respect for a vanishing lifestyle. I'm talking about Florida Crackers: the Cattlemen and Cowboys of Florida.
This story starts back to 1521, when Spanish explorer Juan Ponce de Leon landed in what is now Florida and introduced the first cattle and horses into North America. Some descendants of these early pioneering families still play a major role in Florida's cattle industry to this day, working the land and raising the cattle that their families have owned for generations.
The film is about real-life, working cowboys in Florida: their history, their culture, and the uncertain future they face as they strive to preserve their way of life in a fast-paced modern world.
Florida Crackers: the Cattlemen and Cowboys of Florida DVD 
Standard Version – $19.95 –
Public Performance Version – $75 –
Shown below is a short sam­ple of from the DVD,