By
Rick Smith
on Tuesday, February 8th, 2011 |
Comments Off

on Videos About Florida and Its History

Patrick Smith's Florida, A Sense of Place (Award-Winning DVD)
Any­one — stu­dent, teacher, or just a fan of A Land Remem­bered — will love see­ing this DVD. You'll spend an hour with Patrick D. Smith, as he takes you on a nos­tal­gic jour­ney to a Florida that exists today only in books. If you are using A Land Remem­bered in your class­room or in a home­school sit­u­a­tion, you sim­ply must show this DVD to your students.
Thank you, too, for the deli­cious DVD…A Sense of Place. We laugh every time we lis­ten to you explain­ing how you would pack up your suit­case and try to head down south to research the Indian tra­di­tions. We feel like we were on those trips with you.   ~ Susan Clark & Scott Taylor
You'll get to know both the author and the state of Florida bet­ter as this soft spo­ken gen­tle­man intro­duces you to the Florida of his youth. You'll be touched by the true sto­ries of his adven­tures along the way to writ­ing his books, many of which are now modern-day classics.
Many peo­ple have said that any­one liv­ing in or vis­it­ing the state of Florida should see this DVD. You'll learn that Florida is far more than a tourist destination.
Patrick Smith's son, Rick (Patrick, Jr.) an award-winning film­maker liv­ing in Cal­i­for­nia, shot and edited this lov­ing trib­ute to his father, with help from his wife, Kim, her­self a pro­fes­sional edi­tor and producer.
Patrick Smith per­son­ally nar­rates this mul­ti­ple award-winning pro­gram as video, his­tor­i­cal pho­tos and re-enacted scenes bring his sto­ries to life. A short sam­ple is shown in the video to the left.
Patrick Smith's Florida, A Sense of Place is 54 min­utes long and includes fas­ci­nat­ing sto­ries of Patrick Smith's life and adven­tures; expe­ri­ences that he had to have in order to write his books the way he did. It pro­vides great insight not only into Florida's past, but into the mind of one of her favorite writers.
Stan­dard Ver­sion — $19.95 —
Pub­lic Per­for­mance Ver­sion — $95 —
The Pub­lic Per­for­mance Rights (PPR) ver­sion sat­is­fies US Copy­right stan­dards for show­ing to pub­lic audi­ences, as a reward in schools (like a rainy day, but not required for nor­mal class­room use if it is in the cur­ricu­lum), or when charg­ing admis­sion. This the same thing you'd do for any com­mer­cial film use. This ver­sion includes a free copy of the "Patrick Smith Answers Stu­dents' Ques­tions" DVD.
The PPR ver­sion is included for FREE with all book orders for 31 or more books, no mat­ter whether you choose hard­bound or soft­bound, stu­dent ver­sion or reg­u­lar version.
Patrick Smith Answers Com­mon Ques­tions About A Land Remem­bered (DVD)

Many stu­dents have ques­tions about the book or Patrick Smith the author. He can­not per­son­ally answer all of the let­ters he gets, so he recorded this DVD in which he answers most com­mon ques­tions. This DVD is included as a free bonus when you pur­chase the dig­i­tal guide ($20) listed above.
NOTE: This item is included free with any order of $15 or more!
DVD - $12.95 
Butch Har­ri­son, Florida Cracker Sto­ry­teller (DVD)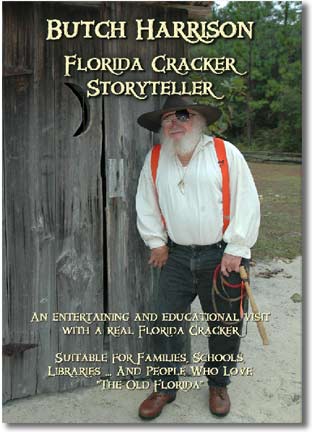 This DVD con­tains 58-minutes of sto­ries in three chap­ters. The first sec­tion, filmed at a Florida pio­neer home­stead at Florida Cap­i­tal State Park in Perry, Florida, pro­vides a rich intro­duc­tion to early set­tler life. An authen­tic set­tler house and out­build­ings pro­vide the per­fect back­ground as Butch demon­strates how and why set­tlers built the typ­i­cal "Cracker House," what they ate and how they lived. This is as close as you'll come to tak­ing your stu­dents on a real field trip to a Florida pio­neer settlement.
They'll learn about the econ­omy of trad­ing skins and furs instead of money, which was quite com­mon dur­ing this time. You'll also get a tour of a sugar cane mill.
In the sec­ond sec­tion, Butch enter­tains you with true tales of his life as a guide and glades­man in the Florida Ever­glades. These are col­or­ful sto­ries of frogs, fish and alli­ga­tors in the world that was Butch's play­ground, a world that is increas­ingly threat­ened today.
This is a unique pro­gram that is sure to be a hit with stu­dents of all ages.
Florida Cracker Sto­ry­teller DVD — $19.95
Shown below is a short sam­ple of from the DVD, Florida Cracker Sto­ry­teller DVD.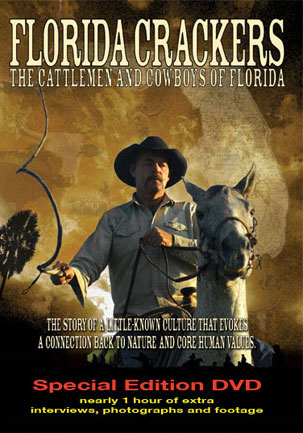 Florida Crack­ers: the Cat­tle­men and Cow­boys of Florida
Occa­sion­ally, some­one comes along to keep the torch of our pio­neer­ing ances­tors burn­ing. My father did it when he wrote A Land Remembered.
Some friends of mine have accom­plished a sim­i­lar feat with their skills in film­mak­ing. I'm happy to announce the release of a new movie made with an equal amount of love and respect for a van­ish­ing lifestyle. I'm talk­ing about Florida Crack­ers: the Cat­tle­men and Cow­boys of Florida.
This story starts back to 1521, when Span­ish explorer Juan Ponce de Leon landed in what is now Florida and intro­duced the first cat­tle and horses into North Amer­ica. Some descen­dants of these early pio­neer­ing fam­i­lies still play a major role in Florida's cat­tle indus­try to this day, work­ing the land and rais­ing the cat­tle that their fam­i­lies have owned for generations.
The film is about real-life, work­ing cow­boys in Florida: their his­tory, their cul­ture, and the uncer­tain future they face as they strive to pre­serve their way of life in a fast-paced mod­ern world.
Florida Crack­ers: the Cat­tle­men and Cow­boys of Florida DVD 
Stan­dard Ver­sion — $19.95 —
Pub­lic Per­for­mance Ver­sion — $75 —
Shown below is a short sam­ple of from the DVD,