By
Rick Smith
on Wednesday, July 21st, 2010 |
Comments Off

on A Land Remembered Should Be Required Reading For Every Florida Student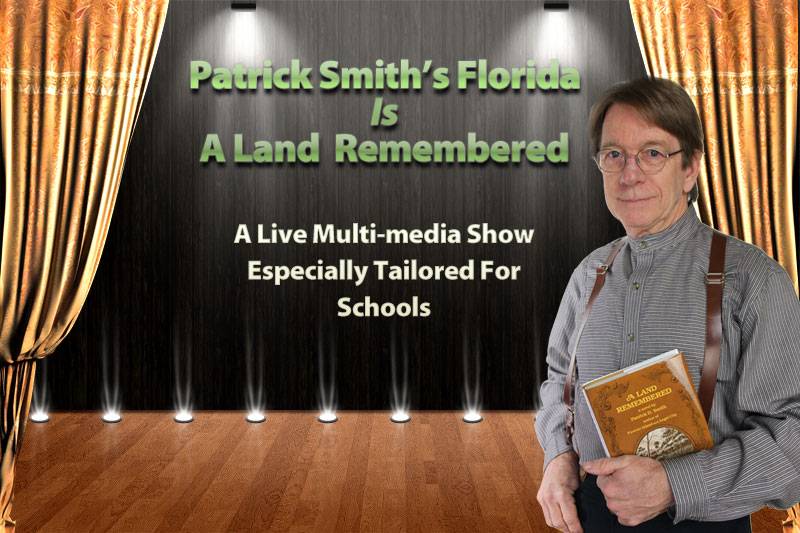 Click  to learn how you can bring the A Land Remembered multi-media show to your school.
"Love, love, love this book! Should be required reading for all school-aged children." ~Teena O'Dell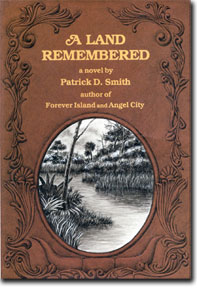 A Land Remembered is very popular in classrooms and home schools throughout Florida, and for good reason. It has everything needed to fire the imagination of young readers: cowboys, indians, wild animals, horses, hurricanes, alligators, cattle rustlers, steam ships, dogs, fierce bears and so much more. While catching readers up in the vibrant story, it also teaches about Florida history and the early pioneers who settled the "last frontier." They're transported back into a wild and sparsely inhabited Florida, and come to understand the state's origins in a way that no history book could teach.
The best book I have ever read… it is a book that every student in this state should have to read before they graduate high school…
~Mark McKinney
Many teachers and parents have told us they could not encourage a child to read until they gave them a copy of A Land Remembered and, like magic, the child became so engrossed in the book that they couldn't get them to put it down. Then students often get their parents to read the book, and they spread the word among their friends. We have heard so many amazing stories from people of all ages who say that this book fundamentally changed the way they view Florida and that it has shown them the joy of reading.
Thank you Patrick Smith for writing this book which is an interesting and pleasurable way to share old Florida and its rich history. My students wait for me to read from it and have even said we will miss recess if you read it.
That says it all when it comes to students. It must be good if they are willing to miss recess.
~ Elizabeh Brewster. Dunedin
Parents who read this book when they were students, back in the 1980s, are now giving it to their children to help them discover the wonderful experience of reading. Just read some of the things that teachers and students have said about A Land Remembered here and you'll see what this book means to so many people. It's often called "The Florida Cracker's Bible" and lovingly kept as a cherished book.
A Land Remembered is available in the standard edition and in a two-volume student version, specially edited for younger readers. The student versions are available in both hardbound and softbound editions.
In VOLUME 1, meet young Zech MacIvey, who learns to ride like the wind through the Florida scrub on Ishmael, hismarshtackie horse, with his dogs, Nip and Tuck, at his side. His parents, Tobias and Emma, scratch a living from the land, gathering wild cows from the swamp and herding them across the state to market. Zech learns the ways of the land from the Seminoles, with whom his life becomes entwined as he grows into manhood.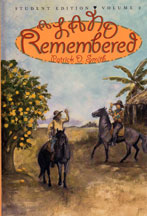 In VOLUME 2, with the birth of Zech and Glenda's son, Solomon, a new generation of MacIveys learns to ride horses, drive cattle, and teach rustlers a thing or two. Sol and his family earn more and more gold doubloons from cattle sales, as well as dollars from their orange groves. The invest it in buying land, once free to all, now owned and fenced and increasingly populated, until it becomes just "a land remembered."

Click here now to go to our online shop to purchase. Volume discounts are available.


EXCLUSIVE BONUS!
Every order over $15.00 includes a FREE copy of the DVD, "Patrick Smith Answers Common Questions About A Land Remembered." In this program Patrick Smith himself answers the questions most students have about A Land Remembered and the author himself. Sold separately for $12.95, you'll get it FREE with every order over $15.00.