By
Rick Smith
on Wednesday, July 21st, 2010 |
Comments Off

on A Land Remembered Should Be Required Reading For Every Florida Student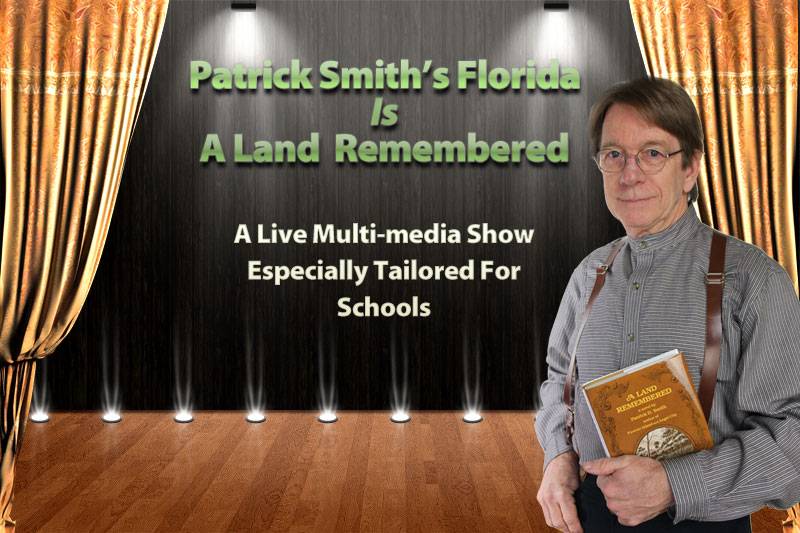 Click  to learn how you can bring the A Land Remem­bered multi-media show to your school.
"Love, love, love this book! Should be required read­ing for all school-aged chil­dren." ~Teena O'Dell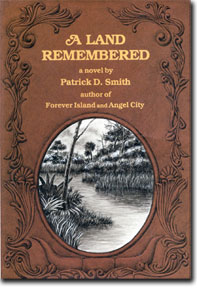 A Land Remem­bered is very pop­u­lar in class­rooms and home schools through­out Florida, and for good rea­son. It has every­thing needed to fire the imag­i­na­tion of young read­ers: cow­boys, indi­ans, wild ani­mals, horses, hur­ri­canes, alli­ga­tors, cat­tle rustlers, steam ships, dogs, fierce bears and so much more. While catch­ing read­ers up in the vibrant story, it also teaches about Florida his­tory and the early pio­neers who set­tled the "last fron­tier." They're trans­ported back into a wild and sparsely inhab­ited Florida, and come to under­stand the state's ori­gins in a way that no his­tory book could teach.
The best book I have ever read… it is a book that every stu­dent in this state should have to read before they grad­u­ate high school…
~Mark McK­in­ney
Many teach­ers and par­ents have told us they could not encour­age a child to read until they gave them a copy of A Land Remem­bered and, like magic, the child became so engrossed in the book that they couldn't get them to put it down. Then stu­dents often get their par­ents to read the book, and they spread the word among their friends. We have heard so many amaz­ing sto­ries from peo­ple of all ages who say that this book fun­da­men­tally changed the way they view Florida and that it has shown them the joy of reading.
Thank you Patrick Smith for writ­ing this book which is an inter­est­ing and plea­sur­able way to share old Florida and its rich his­tory. My stu­dents wait for me to read from it and have even said we will miss recess if you read it.
That says it all when it comes to stu­dents. It must be good if they are will­ing to miss recess.
~ Eliz­abeh Brew­ster. Dunedin
Par­ents who read this book when they were stu­dents, back in the 1980s, are now giv­ing it to their chil­dren to help them dis­cover the won­der­ful expe­ri­ence of read­ing. Just read some of the things that teach­ers and stu­dents have said about A Land Remem­bered here and you'll see what this book means to so many peo­ple. It's often called "The Florida Cracker's Bible" and lov­ingly kept as a cher­ished book.
A Land Remem­bered is avail­able in the stan­dard edi­tion and in a two-volume stu­dent ver­sion, spe­cially edited for younger read­ers. The stu­dent ver­sions are avail­able in both hard­bound and soft­bound editions.
In VOLUME 1, meet young Zech MacIvey, who learns to ride like the wind through the Florida scrub on Ish­mael, his­marsh­tackie horse, with his dogs, Nip and Tuck, at his side. His par­ents, Tobias and Emma, scratch a liv­ing from the land, gath­er­ing wild cows from the swamp and herd­ing them across the state to mar­ket. Zech learns the ways of the land from the Semi­noles, with whom his life becomes entwined as he grows into manhood.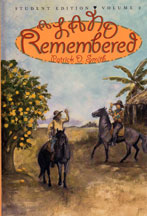 In VOLUME 2, with the birth of Zech and Glenda's son, Solomon, a new gen­er­a­tion of MacIveys learns to ride horses, drive cat­tle, and teach rustlers a thing or two. Sol and his fam­ily earn more and more gold dou­bloons from cat­tle sales, as well as dol­lars from their orange groves. The invest it in buy­ing land, once free to all, now owned and fenced and increas­ingly pop­u­lated, until it becomes just "a land remembered."

Click here now to go to our online shop to pur­chase. Vol­ume dis­counts are avail­able.


EXCLUSIVE BONUS!
Every order over $15.00 includes a FREE copy of the DVD, "Patrick Smith Answers Com­mon Ques­tions About A Land Remem­bered." In this pro­gram Patrick Smith him­self answers the ques­tions most stu­dents have about A Land Remem­bered and the author him­self. Sold sep­a­rately for $12.95, you'll get it FREE with every order over $15.00.